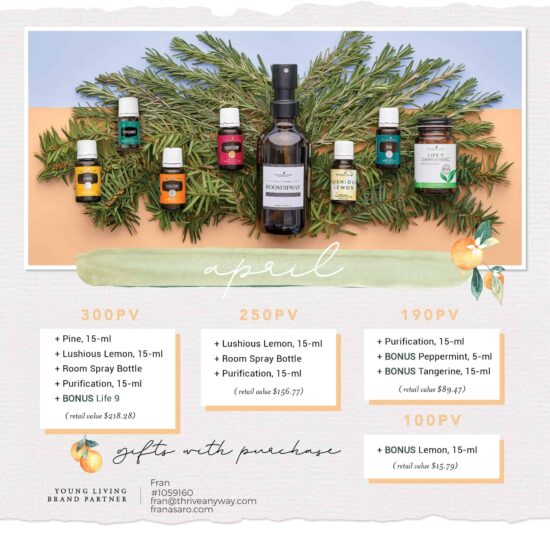 Young Living's monthly gift with purchase allows you to earn rewards just for shopping your favorite essential oils and oil-infused products. Spring is a time to reconnect to the planet, to shake off the buildup of winter and have a fresh start. Our naturally derived products capture the scents and spirit of the season as you move into a new time of year. Purchase Young Living products with a point value (PV) to help you qualify for this month's gifts. The more you shop, the more you earn!
With spring in full bloom, we're focusing on cultivating a clean and essential lifestyle with April's gifts!
We've got Lemon, Peppermint, and Tangerine essential oils to assist you in spring cleaning by helping get rid of sticky residue, Purification essential oil blend for sweeping unwanted odors out the door, a 250 ml room spray bottle for custom essential oil-infused spritzes to replace synthetic room fresheners, Lushious Lemon essential oil blend to capture the spirit of spring growth, Pine essential oil for synthetic-free DIY cleaning products, and Life 9 for probiotic support for healthy digestion.
300 PV TIER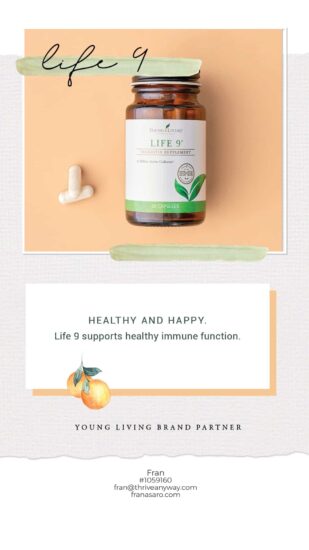 Retail value: $218.28
Pine essential oil, 15 ml
Subscribe to Save:
Life 9
250 PV TIER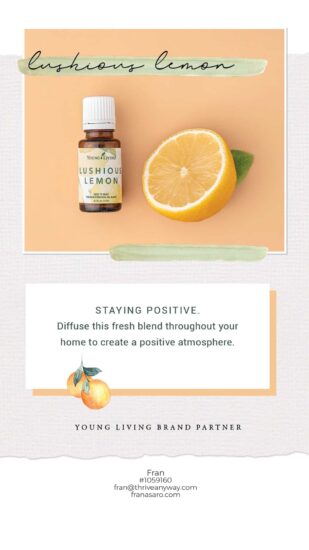 Retail value: $156.77
Room spray bottle
Lushious Lemon essential oil blend, 15 ml
190 PV TIER
Retail value: $89.47
Purification essential oil blend, 15 ml
Subscribe to Save:
Peppermint essential oil, 5 ml
Tangerine essential oil, 15 ml
100 PV
Retail value: $15.79
Subscribe to Save:
Lemon essential oil, 15 ml